Study the Bible on the go with this free online Bible commentary. This mobile-friendly website is a great way to read Andrew's notes on a mobile device or computer, add this page to your favourites.
The Free Online Commentary notes are also available in print as the Life for Today study books.
Andrew averaged 1 to 1.5 hours of study to produce the notes on each Bible verse.
In some cases, the research for a single commentary note took over eight hours.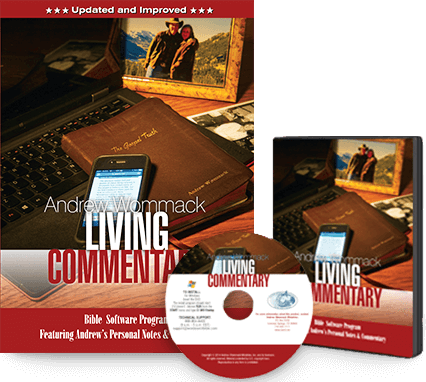 This Bible software program features 21,000+ notes, including Life for Today notes, from Andrew's personal study. New notes are added to the program each month! The software also features maps, graphs, and original Hebrew and Greek word references to complement any group fellowship or devotional reading.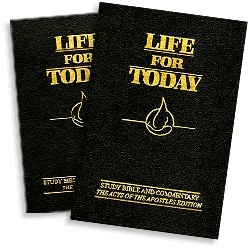 The Life for Today study books include the same notes offered as the Online Bible Commentary from Matthew through 2 Timothy. Here, you'll find more than just reference material; maps, graphs, and Andrew's unique message make this commentary unlike any other.
Bible Commentary Overview
Living Commentary

Computer Software

Online Commentary

This Webpage

Life For Today

Hardback Books

Basic Notes from
Matthew - II Timothy
Web Access
Updated Monthly
Computer Software
Old & New Testament Notes
Notes Included
21,000


and counting

3,200
5 books


3,200 in total

Price
$120
Free
£10 - £18

per book

Order Now
View Now
Order Now
How much of the Bible does Andrew's commentary cover?
The commentary covers the New Testament from Matthew through 2nd Timothy.
Are there notes for every verse?
There are notes for a little more than half the verses. Only the verses that have notes are listed on the web site. If a verse you are interested in is not covered, look around it in context and you may find what you are looking for.
Why is it called "Note 20 at Acts 2:11" when there is only one note for that verse?
The commentary notes on this website are taken from a printed study Bible. The system of numbering notes was designed for the printed book and is used throughout the text to refer to other notes. Because of this, it would be very difficult to try and change them.
Why are there references to page numbers?
As mentioned above, the commentary notes are taken from a printed study Bible. The page numbers are useful in the printed book but not the web pages.
What is this a reference to? "(see ref. b at v. 37) "
There are more features to the printed study Bible than we can include on this web site. We have many marginal references in the printed version with word definitions and related verses. This is a reference to one of these marginal notes.
Please note:
Since these commentary notes appear without change from the printed books, there are certain things that may not make sense. For example, the notes are numbered in a way that seems confusing on the web pages; there are references to page numbers and marginal references, etc. These all serve a purpose in the printed books, but not online. Understanding that the notes originated in a printed book will help avoid confusion.