Don't Limit God
Many Christians believe that God is withholding good things from them, and they are not experiencing all that He has for them. They see themselves in a negative light, and in turn see God in the same way. The truth is that God is good, and the Bible is full of God's promises for the present and future!

How do you tap into the unlimited supply of the Kingdom of Heaven? If you are going to experience God's best for your life, you need to see yourself the way He sees you! Learn to throw off the limits and dive into all that God has for you. God wants you to live without limits!
---
Don't Limit God Package
Discover how to see yourself differently with the Don't Limit God Package! This package includes the Don't Limit God CD or DVD album, study guide, paperback book, and a bonus window sticker. This £46.50 value is priced at only £32.50.

This teaching will inspire and challenge you as you learn to take the limits off of God in your own life! Order your package today and start living without limits!

Complete Package Includes:

Don't Limit God - CD or DVD Album
Don't Limit God - Book
Don't Limit God - Study Guide
Don't Limit God - Window Sticker
Price: £32.50
Don't Limit God - CD Album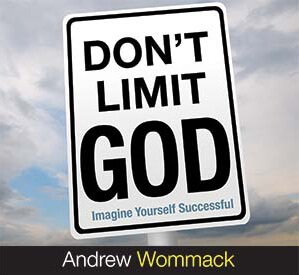 If you want to learn to see yourself the way God sees you, and move from small thinking to seeing yourself successful, Don't Limit God is for you! This powerful teaching will give you the tools you need to walk in God's promises and plans for your life!
Price £19
Become a Grace Partner Today!
Every partnership has the potential to change numerous lives as we continue reaching as far and as deep with the Gospel as possible
Partner With AWME Today!